What is Mercedes-Benz DISTRONIC PLUS®?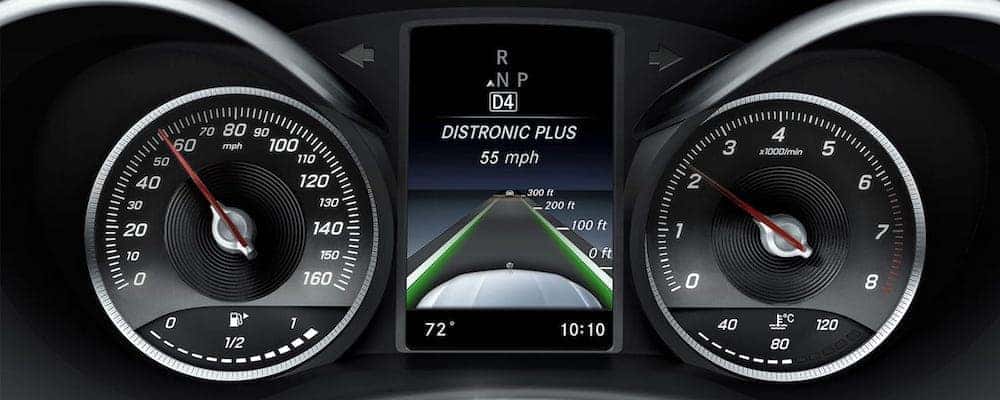 ---
The DISTRONIC PLUS® active cruise control system helps drivers keep an even distance behind the traffic that's ahead of you. This technology uses radar to monitor the gap between your vehicle and the one in front of you, allowing traffic to move better without having to use the standard single-speed cruise control system. You'll find DISTRONIC® comes equipped in most new Mercedes-Benz vehicles. Get all of the information from the Mercedes-Benz experts at Mercedes-Benz of Centerville near Kettering.
How to Use DISTRONIC PLUS®?
If your car is already equipped with this premium feature, follow the simple steps to operate it:
Like with your standard cruise control system, the DISTRONIC PLUS® controls are located on a lever attached to your steering column.
Move the lever up or down to set your cruising speed. You can then fine-tune your speed by moving the lever up to speed up, or move it down to slow down. To change your speed by one mile per hour.
If you press the lever hard, it changes the speed by five miles per hour.
To cancel your cruise control setting, push the lever away from you or press the brakes.
If you want to resume the last set speed, simply pull the lever toward you.
A knob on the end of the lever adjusts the following distance behind the vehicle ahead of you. It shows the distance on the central screen.
If the traffic ahead stops completely, the DISTRONIC PLUS® system will bring your car to a stop. If the stop is longer than three seconds, tap the gas or pull the lever toward you to resume driving.
Drivers should only use DISTRONIC PLUS® on the highways, and the driver has to remain aware of their surroundings at all times. Refer to your vehicle's owner's manual or get contact us at Mercedes-Benz of Centerville for additional information.
What is DISTRONIC PLUS® with Steering Assist?
The DISTRONIC® Steering Assist feature works to make sure our luxury vehicle remains in its lane. This technology monitors lane markings and nearby vehicles and will make any steering adjustments to compensate for curves on roads, as well as monitors the traffic in the lane to your left to prevent any overtaking vehicles from the right. It also makes sure that your hands are still on the steering wheel, giving you added peace of mind while on the roads in Springboro.
Which Mercedes-Benz Models Offer DISTRONIC® Cruise Control?
DISTRONIC® cruise control systems come as a standard or available feature in the following Mercedes-Benz vehicles:
Mercedes-Benz A-Class
Mercedes-Benz C-Class
Mercedes-Benz E-Class
Mercedes-Benz S-Class
Mercedes-Benz CLA
Mercedes-Benz CLS
Mercedes-Benz GLA
Mercedes-Benz GLC
Mercedes-Benz GLE
Mercedes-Benz GLS
Mercedes-Benz G-Class
Mercedes-Benz SLC
Mercedes-Benz SL-Class
Learn More About the Mercedes-Benz DISTRONIC PLUS® at Mercedes-Benz of Centerville
Depending on which Mercedes-Benz model you opt for, you can expect to find DISTRONIC PLUS® or DISTRONIC PLUS® with Steering Assist features equipped in your new vehicle. Contact Mercedes-Benz of Centerville for specific model information, for details about other features like the tire pressure monitoring system, or visit our Centerville dealership for a test drive.