Coupe vs. Sedan: What's the Difference?

A well-known distinction between a coupe and a sedan is that coupes have two doors and sedans have four doors. However, there are other differences between these two body styles. Mercedes-Benz of Centerville breaks down the differences between a coupe vs. sedan below.
Difference Between Coupe and Sedan
There are many differences between a coupe and a sedan. Some of these differences include:
Door Count: The most obvious difference between a coupe vs. sedan is the number of doors the vehicle has. A coupe has two doors, while a sedan has four doors.
Performance: Due to the coupe's smaller size and weight, the coupe usually delivers sportier performance. Sedans, on the other hand, are larger in weight and size. To compensate for this, sedans typically offer engine options and suspension upgrades.
Exterior Style: There are other styling distinctions that indicate whether a vehicle is a coupe or sedan. A coupe has a shorter body than the sedan, as well as longer doors and longer rear windows. This creates a sportier aesthetic. The sedan's shorter doors offer a more balanced look.
Interior Size: Looking to seat more passengers? The sedan may be a good option for you. Sedans usually seat five, offering spacious individual rear passenger space. Coupes usually seat up to 4, with seating for two in the rear row. Usually, the space in the back row is smaller in a coupe when compared to a sedan.
Cargo Space: Because sedans have longer body structures, they usually offer more cargo space than a coupe does.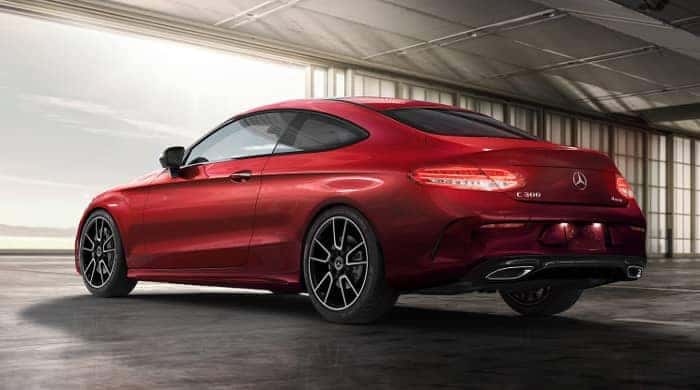 Sedan vs. Coupe: Which is for Me?
If you have a larger family or need more cargo room, the sedan is probably a better option for you. However, if you enjoy a sportier ride in terms of performance and style, a coupe model is a great fit. If you are still unsure, contact someone at Mercedes-Benz of Centerville. We can go over the features of both models with you in order to help you decide.
Compare The Coupe vs. Sedan at Mercedes-Benz of Centerville
Explore our 2-door and 4-door coupe and sedan models at Mercedes-Benz of Centerville, located near Springboro and Oakwood. One great place to start is the C-Class, which is available in coupe and sedan body styles and offers a luxurious interior. Our dealership offers a wide selection of new luxury sedans and coupes, as well as used and certified pre-owned models, so you are sure to find the right match!