2019 Mercedes-Benz GLA Reviews

The 2019 Mercedes-Benz GLA reviews are in, but what do the automotive experts have to say? We have done the leg work to collect reviews from reliable sources like Cars.com and Edmunds so Springboro and Bellbrook shoppers can make up their minds about this premium sub-compact SUV. Read the 2019 Mercedes-Benz GLA reviews below!
Style Review
The distinctive style of the 2019 GLA has been praised by Thecarconnection.com, who says, "Despite its short roof, the GLA packs in plenty of styling cues where it can, from the steeply-angled roof pillars to the significantly sculpted body. Eighteen-inch wheels give the GLA some curbside appeal, and the massive three-pointed star that takes up nearly a third of the grille reminds everyone exactly what you're driving. The front and rear bumpers, as well as standard LED tail lights, gave the GLA more presence in its refresh last year, while optional LED headlights (standard on the AMG® model) leave a distinct signature in the rearview mirrors of cars in front at night."
Performance Review
Edmunds.com notes the latest GLA iteration is fun to drive, stating that most Mercedes-Benz vehicles "lean toward stately power and control, but the GLA is one of the more fun and raucous models…" The review goes on to say that this is "especially true of the AMG® GLA 45 top trim, which offers 375 hp, standard all-wheel drive and performance on another level compared to its rivals."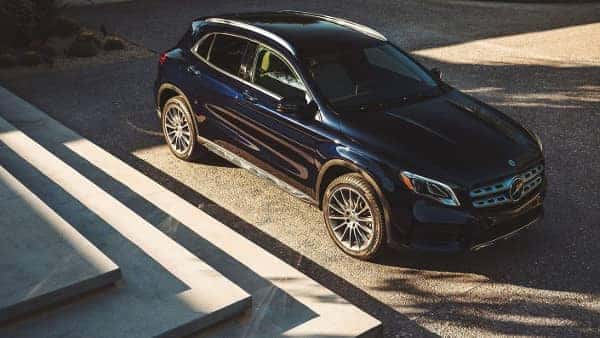 Technology and Features Review
Cars.com enjoys the interior and technology features present in the 2019 GLA, noting the standard automatic emergency braking feature. The review sites "lots of available technology" as a strength of the GLA and goes on to praise other standard convenience features, such as a power liftgate, dual-zone air conditioning, and KEYLESS START®. Notable options include a panoramic moonroof, blind spot warning, and Apple CarPlay® and Android Auto™.
Tour the GLA Today at Mercedes-Benz of Centerville in Centerville
Do the 2019 Mercedes-Benz GLA reviews have you convinced the new GLA is the right vehicle for you? Cement your decision by taking a test drive at Mercedes-Benz of Centerville and comparing it to the GLC. Our representatives will go over all the GLA features and discuss your financing options to make sure you secure a competitive rate. Don't miss our new vehicle specials for additional savings on this nimble SUV.
More Mercedes-Benz GLA Features
The 2019 Mercedes-Benz GLA reviews are in, but what do the automotive experts have to say? We have done the leg work to collect reviews from reliable sources like Cars.com and Edmunds so Springboro and Bellbrook shoppers can make up their minds about this premium sub-compact SUV. Read the 2019 Mercedes-Benz GLA reviews below! Learn…